For a list of states we are currently able to ship to, click HERE. To search for retailers near you, use our Product Locator.
An aroma of roses accompanies dark fruit – cherry, strawberry – balanced with fruit acidity to finish clean.
In 1983, a nearby grower brought Andrew Quady some Black Muscat grapes that were previously destined for sacramental wine at a local church. When the church ceased operations, the grower was left with truckloads of ripe, unwanted Black Muscat. The grower heard through the grapevine that newcomer Quady had some success with Orange Muscat, so he knocked on Quady's door, and the rest is history.
Quady handled the Black Muscat in the same manner as Essensia: crushing, chilling and allowing the grapes to macerate. He added wine spirits to arrest the fermentation. On draining the tank the winery began to smell of roses! In his amazement he held a naming contest and selected Elysium, "state of eternal bliss" in Greek, as a name for this exciting muscat wine.
Elysium's violet-crimson color and litchi-rose aroma develop after the fruit attains full maturity. This requires a warm climate. In warmer years the color is darker and the aroma is more intense.
Elysium is wonderful with cheeses, especially goat cheese or Gorgonzola; with desserts containing red fruits, such as English Summer Pudding; with dark chocolate and with cream desserts and cheesecake. Elysium poured onto vanilla ice cream is an effortless favorite.
Elysium makes stunning spritzers and cocktails. Try the Elysium spritzer in the summertime as a light patio pleaser. Or mix it up with whiskey, lemon, and sweetener for an Elysium Sour. Add it to sparkling wine in place of creme de cassis to make a black muscat rendition of the popular French 'kir royale.' To peruse Elysium cocktail recipes, head over to our recipes page.
The heart on the Elysium label is drawn by artist Ardison Phillips. The label design is by Laurel Quady.
Fortified to Approximately 15% Alcohol by Volume.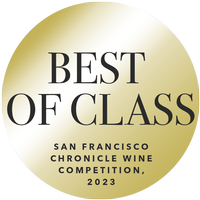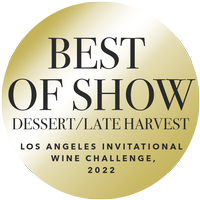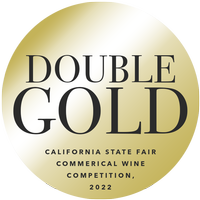 An amazing sweet and rich wine, this has a floral aroma and great concentration. It offers layers of flavor like dried fruit, honey and boysenberry syrup, with food acidity for balance. This makes a fabulous dessert by itself and is sweet enough to conquer almost any other confection.
​
— Wine Enthusiast Magazine, 2016
A wonderful dessert wine, the sweet, yet almost powerful… Quady Elysium shows violets and red berries; medium to full bodied, with a bit of fire in the finish.
Medium ruby violet color. Complex confected aromas and flavors of small champagne grapes, blue flowers, and herbed honey with a supple, bright, sweet full body and a smooth, complex finish.